Each year, Adobe shares its Global Emoji Trend Report, expressing how these miniature pictorials add to our daily communications in spite of language barriers. This comes just in time for Saturday, July 17: World Emoji Day.
For the 2021 edition, 7,000 emoji users in the US, Europe, and Asia contributed to the findings compiled by Adobe, one of the contributors of new emoji to the existing standard.
As it turns out, 'laugh-cry' is the most popular emoji, which can probably be attributed to the fact that it's a quick, wordless means of assuring the other party that your statement is a lighthearted one. For example, "you're in big trouble" can be interpreted very differently depending on whether the emoji is sent along with it.
"Language can be very abstract," notes Paul D. Hunt, typeface designer at Adobe, in a blog post. "Emoji can help approximate tone of voice, gestures and emotional reactions better with imagery than with words alone."
This has only become more vital in the last year, where we've had to rely more on digital communication than ever before. "Many of the emoji are focused on positive emotions, so it's easy to insert them into our conversations and lighten the mood."
Emojis help foster and strengthen empathy, the study finds. It's perhaps its most resonant finding this time round. "These cute, colorful pictograms are also full of potential relationship building power," Hunt states.
With the gradual introduction of more inclusive emoji covering skin tone, disabilities, and members of the LGBTQ+ community recently, this is a fact that is surely set to only strengthen.
Take a look at some of Adobe's other findings in its heart-eyes infobites below.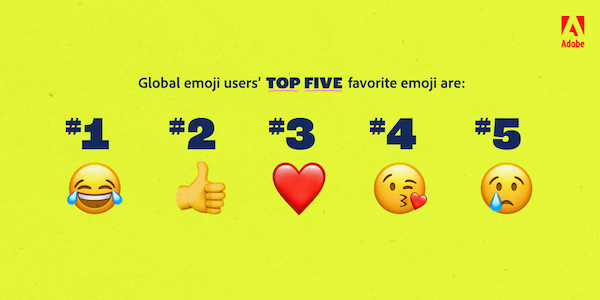 Image via Adobe
Source: https://designtaxi.com