There's a radical cultural center in Arles, France, called the Luma Foundation, founded by the visionary environmentalist Maja Hoffmann. Within the Luma Foundation is a research project and think tank, Atelier Luma, which is a sort of product development equivalent of what Wes Jackson is doing for agriculture on the prairie. Atelier Luma investigates how to creatively use the local natural resources, gathering together scientists, researchers, artists, biologists, engineers, and designers who figure out how to manufacture objects that can protect the ecology of the Camargue region. They develop textiles out of local fibers, waxes, and resins; they're making the most beautiful, durable, Murano‑style glass out of seaweed; they're crafting tiles and bricks out of local stones and shells; they're braiding local rice straw to protect against erosion; they're transforming vegetative waste into materials that can be turned into wall paneling and even lighting devices.
There's a similar project in Finland called Spinnova, headed by two former physicists who, after studying how spiders make silk, applied those methods to wood pulp. Janne Poranen and Juha Salmela are creating a variety of usable textile fibers in novel and environmentally compatible ways.
We can all be resourceful when we're stewards, and we can all help rebuild local economies. We can think like this in every small community in the country: How can we grow what's local? How can we find creative ways to plant our own gardens? And, beyond that, how can we produce all the materials we need ourselves, thoughtfully and respectfully, using the natural resources around us for guidance? I was so encouraged to read in The Washington Post that for only the second time in the past century, the number of farmers in the United States under age 35 is increasing. These farmers "tend to work small farms, grow organically, with a diverse array of crops and animals and are deeply responsive to their local food networks." This shift is happening all over the world; there's a new generation of farmers in Ghana who call themselves "agripreneurs" and who understand that farming is a forward‑thinking, important profession. The value of stewardship is alive and resonating with the next generation.
Similar shifts toward stewardship are reinvigorating our city centers. Because the issues of urban food deserts are so dire, food justice organizations are coming up with ingenious solutions to fight back. In South Central Los Angeles, Ron Finley has been teaching people how to plant organic edible gardens in the neglected strips of dirt between curb and sidewalk; in the heart of Oakland, City Slicker Farms and the People's Grocery were both developed with the express purpose of taking care of the land and providing affordable, healthy produce to people in the inner city. Edible greenbelts—pathways planted with fruits and vegetables, meandering across cities and towns—become spaces that bring people's attention to food and spark conversations. The whole farmers' market movement that's now alive and well all across America is one of the fastest and most effective city‑revitalizing interventions I know.
When we started Chez Panisse, we weren't exactly stewards of the land yet. If anything, we were more stewards of a culture, though we didn't fully realize it back then. We were passionate about the type of rustic French cooking that had existed for hundreds of years, and we wanted to preserve those ways of eating: how to assemble a traditional menu, how to cook what was fresh and in the markets, how to communicate those ideas to the public. We pored over the texts of old cookbooks, but in those early days we would always run up against frustrations at a certain point. We'd read a recipe from Larousse Gastronomique, which would simply say something along the lines of "Salt and pepper a chicken, put it in the oven, take it out, et voilà." We would follow the instructions, simple as they were, but the resulting dish wouldn't taste like anything—because the chickens themselves didn't have flavor.
Pretty quickly, we realized that the meats from local organic ranchers were more flavorful—perhaps as flavorful as the meat had been when Larousse Gastronomique was first published in France, in the 1930s, before industrial agriculture took hold. We realized, too, that the flavor related very directly to how the animals were being taken care of and what they were being fed. When we changed from conventional chickens to pasture‑raised organic ones, the taste was dramatically different. And the vegetables from local organic farmers tasted better, too. We realized that we had to become part of the economic support system that allowed these farmers to continue doing their good work. As it turned out, we couldn't be stewards of a culture without also becoming stewards of the land.
The ultimate stewardship we can practice in the restaurant is feeding people delicious food that's good for them, and that has been grown in a way that considers the environment. I couldn't imagine running a restaurant where you're not thinking about that as your primary motivation, especially in the face of climate change. When you're feeding people in the right way, I think they digest stewardship almost subliminally. I've seen it happen again and again. They feel cared for, they feel connected, and because it tastes so good, they feel inspired to cook that way in their own homes.
Stewardship isn't something simply practiced by farmers, ranchers, and people within the nature conservation community. Teachers are stewards, too. They are stewards of knowledge and stewards of the children in their care. Motherhood and fatherhood are forms of stewardship as well. It's the role of all parents. The point is, we are all already stewards in our own lives, in both big and small ways—so we are all capable of becoming stewards of the land.
Sustainability is a big part of stewardship. The basic concept of sustainability is that if you take something out of the environment, you put something else back in to replace it, thus avoiding the depletion of natural resources and maintaining an ecological balance. A sense of equilibrium, even fairness, is embedded in sustainability.The whole farmers' market movement that's now alive and well all across America is one of the fastest and most effective city‑revitalizing interventions I know.
But, sadly, sustainability is a term that has been misused by fast food culture. It's been co‑opted. I was onstage once at a Slow Food Nations event with Ron Finley. As we were talking onstage, the word sustainability came up.
"Sustainability is bullshit," Ron said. "What we need are regenerative practices, not sustainability." He explained that sustainability has lost its meaning as advertising agencies, fast food companies, and big corporations have begun touting their "sustainability initiatives" and accomplishments. What's more, Ron argued, the very definition of sustainability is about maintaining the status quo, and the status quo has become so degraded that what we really need now is regeneration. And Ron is absolutely right. We have passed the point of sustainability. What we need is regenerative agriculture, a way to repair the damage we've already wrought on our planet and on ourselves. This is a radical application of stewardship.
What, exactly, do we mean by regenerative agriculture? It's certainly a step beyond what we generally call sustainable. And it's also a step beyond the strict USDA definition of organic, which means no pesticides, herbicides, or GMOs. Regenerative agriculture adopts all of the values of organic farming, but it also focuses on the bigger picture of increasing plant and animal biodiversity, rebuilding the health of the topsoil, composting, and creating a functioning, thriving ecosystem. When you change field conditions and restore the soil this way, you promote biosequestration, the process of drawing carbon out of the atmosphere and putting it back into the ground. In the United States, industrial agriculture produces a large percentage of the world's greenhouse gas pollution, due largely to emissions from livestock and overgrazing: industrial animal agriculture is responsible for 37 percent of methane emissions and 65 percent of nitrous oxide emissions—two of the most prevalent greenhouse gases in the atmosphere. If we are to seriously address climate change, the food system has to play the leading role. Biosequestration is an effective, natural way to do this.
An essential component of regenerative agriculture is the understanding that the soil, like us, has its own sort of digestive system. In order to successfully grow healthy crops, you need soil that has all the necessary minerals, microflora, beneficial bacteria, and carbon—which constitute the food, if you will, for the soil itself. That perfect balance in the soil is critically important. Soil is naturally in constant flux, changing as nutrients are contributed and then taken away, but regenerative agriculture mediates those drastic highs and lows.Scientists have proven that eating food that's been grown in rich, living soil can rebuild our immune systems.
This is how regenerative agriculture links very directly to our health. When the soil is host to a wealth of beneficial bacteria, they surround and permeate the food grown in it. When you eat that food, these helpful microorganisms populate the microbiome in your gut. Scientists have proven that eating food that's been grown in rich, living soil can rebuild our immune systems.
Every culture in the world has thought of food as medicine: "To reduce inflammation, eat turmeric." "Whole grains enhance digestion." "Garlic is as good as ten mothers." But this emerging research about the microbiome, the immune system, and regenerative agriculture has been a revelation to me. We've always had an intuitive sense of the way food improves our health, but science is validating and confirming this in a way that makes it comprehensible. The soil gets healthier, the planet gets healthier, and we get healthier.
*
Stewardship is about regeneration, but it's also about conservation. There are so many wild spaces that I'm grateful for. Every time I travel up the rugged coast of California, I give thanks to the conservationists in the 1960s who had the foresight to protect it from development. Our wildlands need to be preserved for the sake of our collective human identity and national well‑being, because wilderness has an incalculable worth that's greater than the strict economic value of the land. Even so, many of us still seem to think of wilderness spaces as separate from us—that going to them is like a trip to Disneyland, instead of part of something that we can participate in right outside our back door. But the truth is, we can have daily, positive, small, regenerative connections with nature in our own gardens, or on our fire escapes, or down the block at our local parks or community gardens. We can be conservationists in our own backyards.
One of the consequences of stewardship is that you become comfortable with nature. The idea that nature is forbidding and other instead of magical and welcoming is something people have always grappled with. But the beauty of nature is that it cannot be predicted. When you learn about nature, you appreciate the wonder and wildness and mystery of it. It teaches us to be present. It teaches us about ourselves, and our own lack of control of our lives. Nature is about the cycle of birth and death—and what could be bigger than that? We just haven't accepted that we are a part of that cycle. But if we can accept it, nature helps us to understand what it is to be human.
__________________________________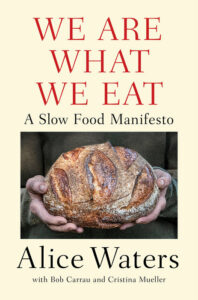 From We Are What We Eat: A Slow Food Manifesto by Alice Waters, co-authored with Bob Carrau and Christina Mueller. Published here with permission by Penguin Press, an imprint of Penguin Publishing Group, a division of Penguin Random House, LLC. Copyright © 2021 by Alice
Source: https://lithub.com