A federal judge has stayed what was set to be Nevada's first execution in 15 years.
U.S. District Judge Richard Boulware II's order prevents the state from moving forward with Zane Michael Floyd's execution before the week of October 18, the Las Vegas Review-Journal reported.
The 45-year-old was sentenced to death for killing four people and wounding a fifth in a shotgun attack at a Las Vegas grocery store in 1999.
Earlier this month, a judge said prosecutors could set a date for Floyd's execution in July. It would have been Nevada's first execution since 2006.NEWSWEEK NEWSLETTER SIGN-UP >
But federal public defenders representing Floyd asked Boulware to allow enough time to investigate the effects of the untested sequence of drugs that prison officials want to use, including the powerful opioid fentanyl, ketamine, cisatracurium (a paralytic) and heart-stopping potassium chloride.
After a five-hour hearing on Monday, Boulware said he agreed with arguments by Floyd's public defenders. "Even for individuals who have been condemned to execution by the state, fundamental due process and fairness is required to have an adequate amount of time to be able to investigate the method by which the state intends to take his life," the judge said.
Boulware noted that Nevada's Department of Corrections had at least three months to develop an execution protocol for Floyd. Clark County District Attorney Steve Wolfson announced in March that he would seek an execution warrant for Floyd.NEWSWEEK SUBSCRIPTION OFFERS >
Floyd and his attorneys "should be afforded at least the same amount of time," Boulware said, according to the Associated Press. He noted the state had kept its "untested drug protocol" secret until last month.
"We're very pleased that we're going to have an opportunity to litigate the state's novel and untested and experimental protocol," Assistant Federal Public Defender David Anthony told the Review-Journal.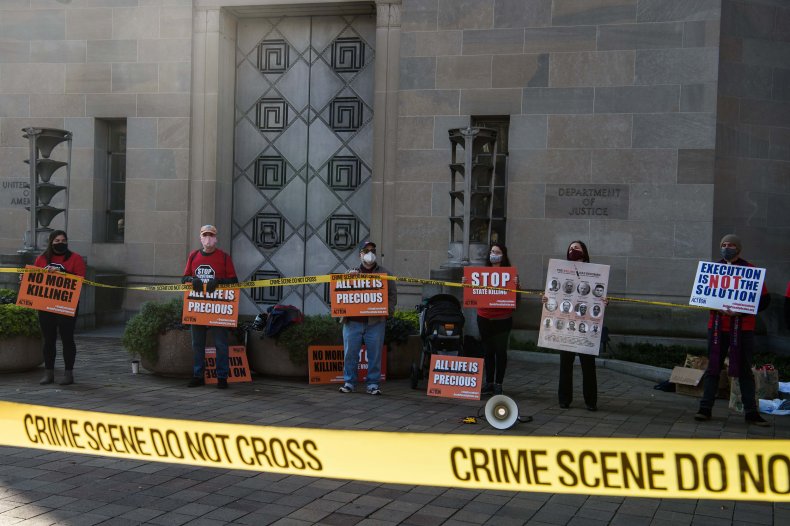 Floyd's attorneys have argued that the use of ketamine could cause "excessive secretions from the mouth" and vomiting, leading to a burning sensation in the veins and lungs.
Last week, a company that makes ketamine threatened legal action if Nevada did not return its supply of the drug.
In a cease-and-desist letter, Josh Reid, a lawyer for Hikma Pharmaceuticals, said the state obtained 50 vials of ketamine illegally.
Reid also noted the company won a lawsuit in 2018 after claiming the Nevada Department of Corrections had resorted to "subterfuge" when it similarly acquired ketamine for an execution.
"This is not Hikma's first rodeo with NDOC on this issue, and the OAG and NDOC are well aware of Hikma's long history of opposing the purchase and misuse of its life-saving products for capital punishment," Reid wrote.
"It is nothing less than shocking and embarrassing for the state of Nevada."
According to the AP, Chief Deputy Nevada Attorney General Randall Gilmer, who argued the state's case on Monday, said prosecutors expect to prevail if the company follows through on threats to sue. Gilmer also said the state can obtain ketamine from other sources.
Source https://www.newsweek.com/judge-puts-hold-nevadas-first-execution-15-years-1605017
Department of International Relations and European Studies https://www.ibu.edu.ba/department-of-international-relations-and-european-studies/