With a significant number of Covid-19 outbreaks taking place on the UK's construction sites over the last year, we need to reexamine how we protect construction workers from both airborne viruses and other contaminants in the air.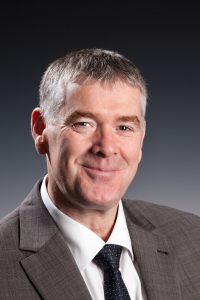 David Moulton is managing director of Camfil UK
The importance of good air quality has never been higher on the agenda; from the spread of airborne viruses (such as Covid-19) to the awareness of outdoor air pollution and how it affects our health. Improving air quality is key to helping to protect the health of people in all environments.
In the construction sector we have seen the rise in this importance due to the emergence of Covid-19. According to Public Health England, construction sites have accounted for over 150 outbreaks since records began last year. These outbreaks don't just affect the health of the employees but they can lead to reduced construction capacity due to increased sick days or site closure as well as a potential risk of missing tight construction deadlines
So, what makes construction sites higher risk environments? Depending on the stage of construction, there are different areas on site that would be conducive to higher transmission rates and they all have a similar condition – poor or inadequate ventilation. From common areas such as portacabins, which have little to no ventilation, to the fact that HVAC systems are often one of the last components to be commissioned on sites. This means that even buildings that are designed with adequate ventilation are not utilising their systems, thus creating higher risk levels.
Other situational factors that can cause an increase in the spread of airborne viruses can include:
The noise levels in the environment: due to increased noise levels on site, workers often need to raise their voices or shout when speaking to one another. This can cause an increase in viral load being released into these high-risk work environments.
Workforce levels: with bigger construction jobs there are often a high number of workers. This often means that workers will be working in close contact and will utilise common areas more regularly so a higher number of workers are in contact.
So how can air filtration help? As spoken about previously there are areas that are considered "high-risk" that need to be protected. Improving common working areas and common assembly points can help create lower risk environments.
In common areas such as portacabins, improving ventilation rates and filtrating the air is key. We have noticed a big trend on construction sites that these facilities are starting to be upgraded with plug and play HEPA air purifiers.
When we look at recommendations for both The World Health Organisation (WHO) and the Centre for Disease Control (CDC) we can see that these units are identified as key risk mitigation devices when your building has insufficient ventilation.
Why HEPA Air purifiers?
HEPA air purifiers are easy and adaptable solutions that can be moved to different locations and help reduce the risk in high-risk environments. A HEPA (H14) air purifier can effectively remove 99.995% of airborne contaminants in a single filter pass. When choosing a HEPA air purifier there are a few things you need to keep in mind.
Not all HEPA filters are created equally. The name HEPA filter has become a generic catch-all term – so site managers should ensure that HEPA filters in air purifiers are actually tested and individually certified to EN1822:2019 standards. Without this certification, you can't be sure of the filtration efficiency.
Additionally, it is crucial that units are properly sized. According to the REHVA recommendations, HEPA air purifiers should aim to achieve between 2-5 air changes, depending on the air change rate already in place. Site managers need to ensure their purifiers can achieve these guidelines to reduce risk in the environment.
Covid-19 has shone a spotlight on the air we breathe and how safe it is. When this pandemic is over, we hope that systems can be implemented to help stop similar pandemics from happening in the future.
With over 150 outbreaks happening on construction sites I hope we can help reduce these problems with clean air systems that not only protect our health from airborne viruses but also the other contaminants that put our health at risk (such as particulate matter).
*David Moulton is managing director of Camfil UK
Source The role clean air plays in safety on the construction site has never been more important | New Civil Engineer
Department of Civil Engineering Department of Civil Engineering – International Burch University (ibu.edu.ba)