Several hundred Orange Order parades will be held across Northern Ireland in a more localised Twelfth of July to try to keep gatherings smaller than usual.
Organisers have said they are largely sticking to plans for parades of 500 people due to the Covid-19 pandemic.
Up to 2,000 police officers will be on duty throughout the day on Monday.
The traditional parades were cancelled last year due to the health emergency, and people were asked to celebrate the event in their own homes and gardens.
The last time the Twelfth took place in 2019, the policing operation cost £1.2m.
The Parades Commission has imposed conditions on a number of marches this year.
A planned nationalist protest in west Belfast was cancelled after the Orange Order amended the proposed route.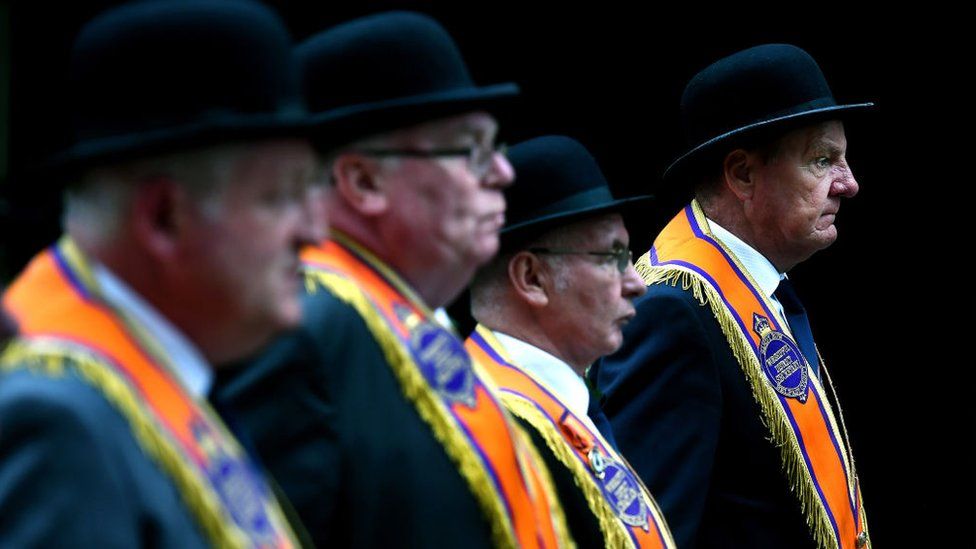 Though the event returns this year, it is not a normal Twelfth and was organised weeks ago with health regulations in mind.
Even though the 500 limit on public gatherings has since been removed, the Orange Order is sticking to its original plans for scaled-down parades.
The Parades Commission has issued determinations on events in Belfast, Portadown, Lurgan, Bellaghy and Rasharkin, in some instances restricting march routes near flashpoint areas.
In west Belfast, a nationalist protest on Springfield Road has been cancelled after the Orange Order dropped plans to walk through the gates of the Workman Avenue peace line.
In the run-up to the Twelfth, the Order urged members, bands people and spectators to be mindful of the public health situation.
"The institution wants everyone to enjoy the Twelfth, but also to look after each other's health," said Reverend Mervyn Gibson, Grand Lodge Secretary.
"Whether that is simply wearing a face covering, or regularly using hand sanitiser on the day, everyone has a part to play."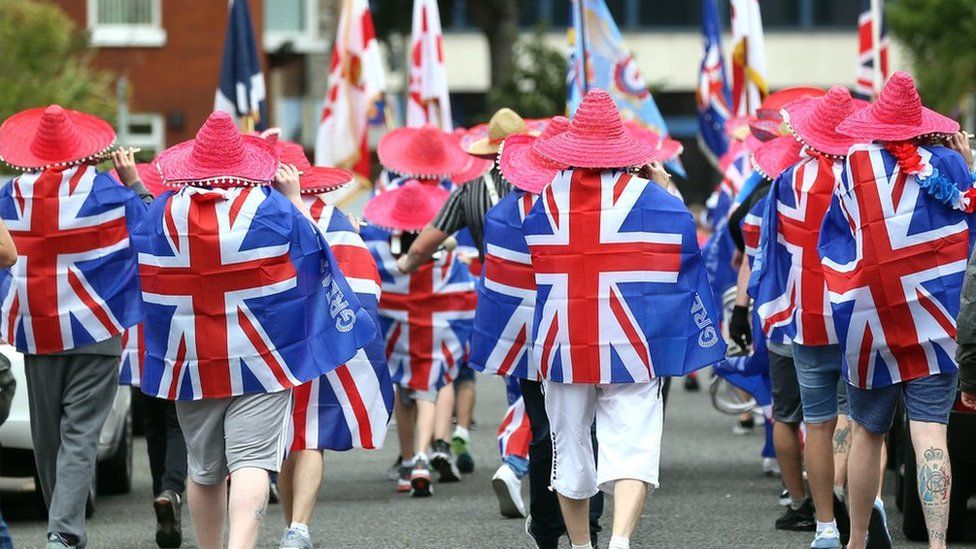 Each year, the 12 July celebrations by the Orange Order mark the anniversary of the victory of Protestant William of Orange over Catholic King James II at the Battle of the Boyne in July 1690.
The Orange Order was formed near Loughgall in County Armagh in 1795, when its founding members pledged their loyalty to the royal family and swore to defend the Protestant faith.
'A Twelfth near home'
In June, it was announced that the 2021 parades would go ahead after discussions between the Orange Order, then-First Minister Arlene Foster, Health Minister Robin Swann and Northern Ireland's chief medical officer.
"The current regulations are such that the traditional county or combined district Twelfth parades are not possible," the Grand Lodge's grand master Edward Stevenson said.
"As an institution we have had to make great sacrifice over the past 12 months and more, but we are now in a better place and our parades can take place, albeit in a slightly different format to a normal year.
"This year we will have smaller local parades, so it will be a Twelfth near home for most members. This is a positive step towards a return to our normal full parades – hopefully in 2022."
Source https://www.bbc.com/news/uk-northern-ireland-57785742
Department of International Relations and European Studies https://www.ibu.edu.ba/department-of-international-relations-and-european-studies/